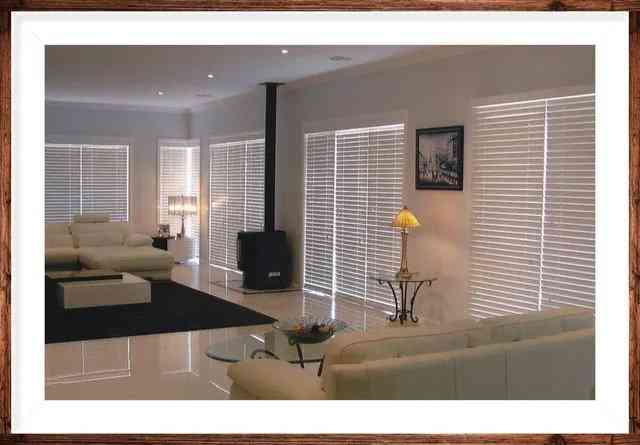 A warm and inviting look
Basswood, also known as Linden, is a hardwood which is common in the temperate latitudes of the northern hemisphere. The timber used by the blind industry is generally supplied from North America where it is harvested in large quantities around the Great Lakes area.
Native Americans used parts of this tree to make rope, thread and fabric. The timber is relatively soft for a hardwood, has low strength properties but is light and has good dimensional stability. Being light in colour with no resins, it lends itself perfectly to accepting stains of various colours. Basswood's grain structure is very fine, not as prominent as Western Red Cedar, this give the blind a more uniform, even appearance.
They are more scratch and dent resistant than cedar, which can be an advantage in a home with young children. These blinds never need repainting and their smooth rich surfaces are easily cleaned with a duster, or at worst a damp cloth with mild detergent.
Our basswood blinds are constructed using the same components as our Cedar Blinds:
50 x 65 mm metal head box (not plastic)
Quality polyester string ladder and lift cord
Solid metal cord lock – not plastic framed
Round edged bottom rail – not a rebated dust catcher
Our timber slats have a rich coating of two base coats and one top coat of UV cured paints. We do not skimp on this coating.
Slat width and thickness of 50x3mm
Or slat width and thickness of 63x3mm
Our Basswood blinds are a beautiful decoration for your house and a true VALUE in the field of window furnishings. They add a warm and inviting look to any decor, insulate your home and are available in four colours:
Cedar Dark
Light Oak
Vivid White
Chalk USA
Stained Oiled finishes (oiled finishes allow you to maintain the condition of the blind over the lifetime. Simply re-oil with cedar oil as desired)
Medium – Light Colour
Medium – Dark Colour Stained oiled finishes